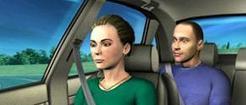 National Highway Traffic Safety Administration
Steven M. Sweat's insight:
DID YOU KNOW?
Overreacting and trying to correct after going off the side of the road is one of the major causes of rollover accidents. As this video demonstrates, this type of driver error can lead to flipping your vehicle and causing major injury or death to yourself or a passenger within your car. Learn how to properly correct a road run off and you may save a life!
Glotzer & Sweat LLP – Rollover accident attorneys in California
See on www.safercar.gov