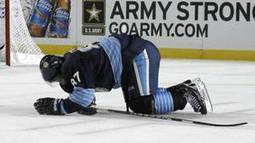 The study used advanced magnetic resonance imaging (MRI) techniques and found changes in the brain – microbleeding and what is thought to be inflammation – that would not normally be detected by the medical professionals who treat athletes for head injuries
Steven M. Sweat's insight:
As medical researchers study more and more about traumatic brain injury, they are coming up with findings that are startling. This latest study shows that even the first time one takes a major blow to the head can cause microbleeding, which alters the brain structure and can lead to long term consequences like memory loss.
For more information about brain injury claims related to auto accidents, falls due to dangerous property conditions and other traumatic events click here.
See on www.theglobeandmail.com