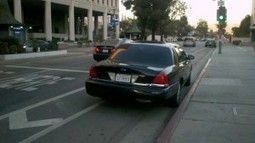 Steven M. Sweat's insight:
Tensions continue to mount between cycling and pedestrian advocates and the Los Angeles Police Department. LAPD has issued a rash of jaywalking tickets in and around downtown L.A. in the past month or so and it has advocacy groups agitated that Los Angeles is trying to quell the bike and walk friendly environment that has begun to take hold in the city. As a Los Angeles attorney who represents injured cyclists and pedestrians, I can say that enforcement of traffic laws is key to safety but, an equal amount of enforcement needs to be targeted towards reckless drivers who endanger the life of persons traveling on bicycles and on foot. This is especially true in our dense urban areas of CA.
Glotzer & Sweat LLP – Pedestrian and Cycling Accident Lawyers in L.A.
See on la.streetsblog.org