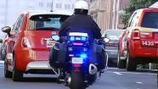 San Francisco police are cracking down on busy TenderNob thoroughfares following several recent car vs. pedestrian collisions.
Steven M. Sweat's insight:
With the number of pedestrian accidents in San Francisco at its highest rate since 2007, I think it is about time to begin stepping up law enforcement efforts to crack down on motorist violating the law. California Vehicle Code 21950 requires motorist to yield the right of way to any pedestrian lawfully crossing a roadway.
For more information on pedestrian accident and injury claims in California go to: www.victimslawyer.com
See on abclocal.go.com