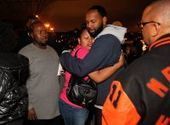 San Francisco Chronicle
Alive or dead? Brain death a complicated issue
San Francisco Chronicle
Ordinarily, brain death occurs after a severe head trauma, such as a car accident or gunshot, damages the brain but leaves the heart and lungs intact.
Steven M. Sweat's insight:
This is one of the toughest dilemmas that faces any family where the patient has been deemed to lack cognitive functioning but, their other vital organs are still working. Brain injuries like this one cause families to make these types of heartbreaking calls as to whether to continue life support or not when "brain death" has been declared. The even more terrible part of this whole ordeal is that a patient went in for a routine tonsillectomy and ended up in a vegatative state. I hope that the family and their legal representatives conduct a full investagation in follow up with any other medical investigators as to whether there was a breach of the standard of care in this case and whether a negligence claim may lie.
Click here for more information on brain injury claims in California.
See on www.sfgate.com