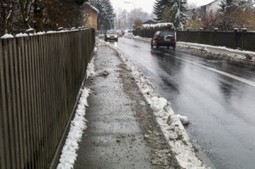 premises-liability-accidents Winter weather brings a special set of safety hazards. Ice, snow and sleet may contribute to seasonal premises (occupiers') liability accidents, such as slip and falls and trip and falls.
Steven M. Sweat's insight:
Fortunately, in Southern California, we don't have to deal with many of the severe winter weather conditions like frequent snow and ice. However, these conditions do exist in and around commercial and residential properties in our mountain areas. In addition, winter rains create dangerous indoor and outdoor conditions that can lead to persons loosing their footing, falling and being injured in the winter months even in Socal.
For more information from an experienced slip and fall incident attorney in Los Angeles go to: http://www.victimslawyer.com/slip-and-fall/
See on www.preszlerlaw.com