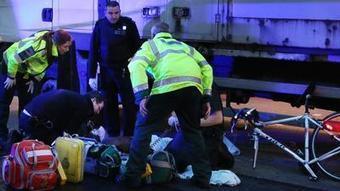 London is not a bicycle haven like Copenhagen or Amsterdam. But it has gone for cycling in a big way, especially since electing cycling advocate Boris Johnson mayor in 2008.
Steven M. Sweat's insight:
Cycling is becoming a greater trend in many urban areas around the world including London and here in Los Angeles. As this L.A. Times piece points out, though, with additional people using bikes to commute to work, school and for basic transportation, comes additional risks in persons on two wheels trying to share the road with cars and trucks. A rash of deaths recently in London has sparked this debate and has led to calls for additional safety measures on busy city streets like separated bike lanes, with dividers or at least designated lanes. As the article points out, several of the recent deaths occurred in lanes that were marked for bikes only (similar to the green lanes that have been installed in downtown L.A.) so this is not a "end all" answer but, it does seem to curb some of the fatal and injury-causing bike crashes. As Los Angeles continues to try to become more "bike friendly", these types of debates can and should take place here in tinsel town.
See on www.latimes.com