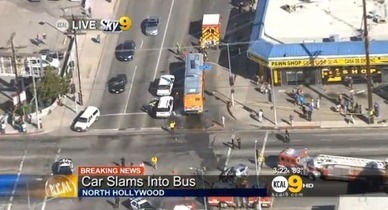 Authorities Tuesday identified a man who was killed when the car he was driving collided with a Metro bus in North Hollywood.The crash occurred just b
Steven M. Sweat's insight:
Steven M. Sweat's insight:
Metro buses are the main form of public transportation in the City of Los Angeles. They move slower than passenger cars and make many more stops than the average vehicle. This leads to impatient drivers attempting to pass or get around the "big orange buses" and leads to collisions like this one. The most applicable Calfornia Vehicle Code ("CVC") section in this scenario is CVC 21756, which requires passing interurban motor coaches with caution and at no greater speed than 10 miles per hour when the bus or trolley is picking up or dropping off passengers at a bus stop. Obeying this one rule of law can mean the difference between causinga bus accident which injures passengers or not! Slow down!
For more information on car accident claims in and around Los Angeles, CA go to: http://www.victimslawyer.com/car-accidents/
See on northhollywood.patch.com