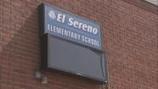 The LAUSD says the dismissal process began as soon as allegations were made that an El Sereno teacher was molesting kids.
Steven M. Sweat's insight:
Yet another allegation of sexual abuse of children in a Los Angeles Unified School District elementary school. It appears to me that the LAUSD need to make a district-wide probe and effort to better screen, hire, train and supervise its teachers and staff. This is becoming a systemic failure to protect our children!
Glotzer & Sweat, LLP – Child Sexual Abuse Victim's Attorneys
See on abclocal.go.com