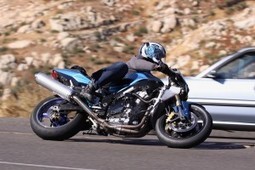 Check the local news, and stories of cars pulling out in front of motorcyclists run regularly in the headlines. Recent research by a Texas Tech University
Steven M. Sweat's insight:
This is an interesting discussion of a human factors study from a professor at Texas Tech. Psychologist know that the human brain tends to equate size with distance. Smaller objects appear farther away. This contributes greatly to the high incidents of motorcycle vs. automobile collisions. The smaller object (in this case the bike compared to a car) appears farther away. This provides the driver of the automobile to think they have more time to, for instance, make a left hand turn in front of a motorcyclist. I have seen this play out many times in my career as a motorcycle accident lawyer and I have employed these types of human factors and accident reconstruciton experts to reconstruct these types of collisions and they have found this to a factor for bike crashes in many instances.
Glotzer & Sweat, LLP – Los Angeles Motorcycle Accident Attorneys
See on www.claimsjournal.com