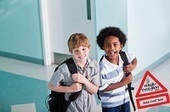 Are you ready? The 17th Annual Walk to School Day event is not just happening right here in Pasadena, but this is an international movement to celebrate the many ways of walking and bicycling to and from school.
Steven M. Sweat's insight:
The fall is a great time to spread awareness of child pedestrian safety. The Annual Walk to School Day event is a great example of this. Pasadena, like many communities in the Los Angeles area, has a large population of school age children and it is good to see support in the community for children walking to school safely.
Glotzer & Sweat, LLP – Los Angeles Pedestrian Accident Attorneys
See on www.pasadenanow.com