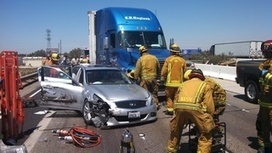 Southbound Highway 99 has been cleared north of White Lane after an accident, the California Highway Patrol reports.
Steven M. Sweat's insight:
The 99 through the San Joaquin Valley in and around Bakersfield is a high traffic area for semi trucks because it is a main corrider for transportation of acricultural and other goods. This incidents seems most likely caused by a violation of California Vehicle Code 22107 (unsafe lane change). This is a common cause of freeway accidents in California.
For more information on Trucking Accidents in Los Angeles and throughout California go to: http://www.victimslawyer.com/truck-accidents/
See on www.turnto23.com