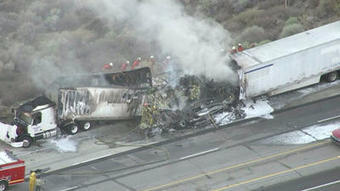 At least one person died after two big rigs collided on the southbound 5 Freeway mountain pass between Bakersfield and Santa Clarita on Tuesday morning.
Steven M. Sweat's insight:
The "Grapevine" is the stretch of Interstate 5 that runs over the mountains between north Los Angeles county and Kern County. It is a main artery for north south traffic including big rig tractor trailers hauling agricultural and other goods as well as a high volume of car traffic. Because of its steep inclines and declines and narrowing in several places along with weather factors (especially in winter when it can get covered with snow and ice), it is a very dangerous stretch of freeway. Big rig accidents on the Grapevine between Los Angeles and Bakersfield are all too common. All the more reason to slow down and be cautious on this roadway.
For more information on highway accident and injury claims in California visit our website:
See on www.latimes.com