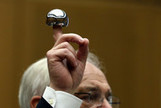 Johnson & Johnson, the world's biggest seller of health-care products, has discussed paying more than $3 billion to settle lawsuits over its recalled hip implants, according to five people familiar with the matter.
Steven M. Sweat's insight:
Facing an avalanche of lawsuits over their defective hip implants, it would appear that Johnson and Johnson may cave in and settle these claims. It is only through the efforts of America's trial attorneys that a huge corporation like this would ever stop manufacturing defective products and putting profits before people!
Click here for more information on defective hip implant lawsuits in California.
See on www.bloomberg.com