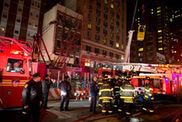 Organized Fraud Ring Bilks 13 Insurers Out of $600K PropertyCasualty360 A joint investigation between the Contra Costa District Attorney's office and the California Department of Insurance (CDI) culminated in the arrest of five individuals, whom…
Steven M. Sweat's insight:
These types of auto insurance fraud rings get found out and prosecuted about every 3-5 years in various parts of California. I don't know why attorneys and medical providers decide to get involved in criminal activity. Not only does this cost the California consumer in increased insurance premiums but, it makes all of us who are trying to represent injured Californians with lawful auto accident actions have to work that much harder convincing the public of the legitimacy of their claims.
See on www.propertycasualty360.com