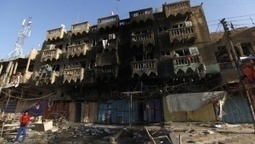 Exclusive: US system for flagging hazardous chemicals is widely flawed Reuters India In June, homes and businesses in Seward, Illinois, were evacuated for a day after a fire and explosion at Nova-Kem LLC injured one employee and released a plume of…
Steven M. Sweat's insight:
It is scary to think that so many chemical plants in the United States are subject to dangerous accidents due to explosions and other catastrophic events like mass leaks due to lack of proper oversight. This report indicates that many plants either mis-report the levels of chemicals they are producing or storing or don't adequately inventory this data. Furthermore, the government agencies don't have the manpower to do proper inspections.
For information on fire or chemical explosions injury claims in California go to: http://www.victimslawyer.com
See on in.reuters.com