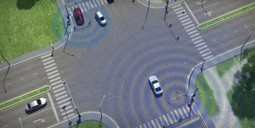 As a safety demonstration, it was a heart-stopper: A Ford Taurus was seconds away from cruising through an intersection when suddenly a row of red lights p
Steven M. Sweat's insight:
What if cars could communicate with each other and sense a pending crash in time to warn the driver? This technology is apparently in development according to this article. Similar to "driverless" cars, I think it raises a lot of potential legal issues for the developers should the automation fail to perform as intended and a crash result. However, it does seem promising.
See on www.claimsjournal.com