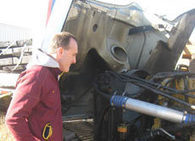 A man's wife sustained a C6 injury when a semi truck ran a stop sign and t-boned her. The husband wants to know what a good settlement would be in this case.
Steven M. Sweat's insight:
Unfortunately, spinal cord injuries especially at the cervical level result in more catastrophic paralysis than any other. Collisions involving semi-tractor trailers are usually high impact just given the disaparity between the size of vehicles involved. This is a tragic case and good discussion in this blog post by Pritzker Law as to the devastating effects this type of traffic collision and serious injury can have.
See on www.pritzkerlaw.com